Top Moments from Meetup Stockholm
Kafka VS RabbitMQ
Attendees from a wide spectrum of industries took a few hours of their busy schedules to join us for the Stockholm Meetup on February 11, which was hosted by 84codes and AWS. Guests enjoyed an informative comparison of RabbitMQ and Apache Kafka. Networking and socializing followed - with good food, of course! Read on for a recap of the Stockholm Meetup.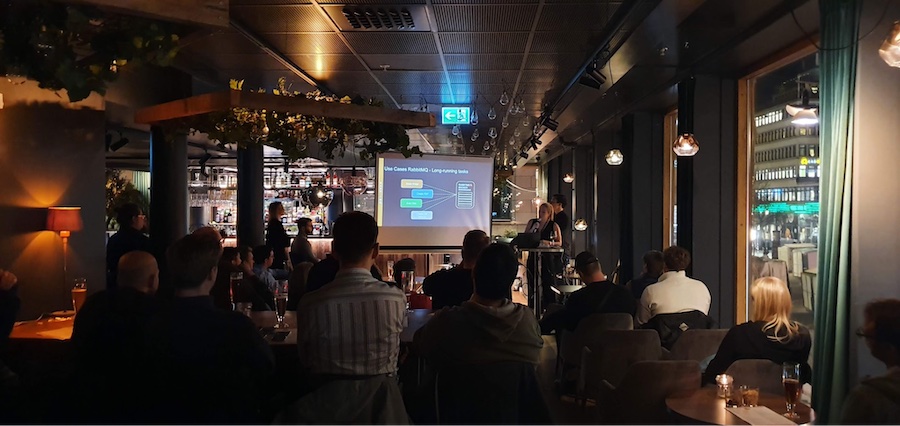 The Stockholm Meetup took place at Piazza Fieno on Hötorget, Stockholm, where 40 attendees engaged in a few hours of intense discussion!
AWS
Paul Ahlgren from Amazon Web Services started off with an introduction to AWS and its position in the market. He mentioned how the transition into the cloud been rapidly increasing and the challenges and benefits of that transition.
RabbitMQ
Lovisa Johansson from 84codes followed with an introduction to RabbitMQ. The audience got to witness how RabbitMQ operates inside the broker and how messages flow through RabbitMQ. Lovisa further demonstrated how a cluster of RabbitMQ brokers operates in a real scenario.
Apache Kafka
Magnus Landerblom then explained Apache Kafka from a similar point of view, stating facts about how this broker operates differently than RabbitMQ in many aspects.
Comparisons between Apache Kafka and RabbitMQ
Magnus and Lovisa pointed out some of the main differences between the brokers, such as how the brokers handle messages differently, what protocols work for the respective product, how the products benefit differently from the broker and consumer scaling, how to monitor the brokers, and more.
UseCases
Before the audience got to ask questions, a couple of "ideal" use cases for the two brokers were presented. Magnus presented use cases for Kafka as a website tracker and how Kafka can support "application health monitoring" tools. He also demonstrated how Kafka can act as a database using log compaction to ensure that only the lastest and the most relevant data is saved.
Lovisa explained how RabbitMQ is perfect for long-running tasks, taking examples from real use cases such as image scaling and virus scanning of uploaded files. At the same time, she underscored the value of using RabbitMQ as a middleman for a microservice architecture.
The meetup ended with a Q&A session where the audience got to ask questions of the speakers. A networking session followed, where attendees mingled and enjoyed food together, making it an overall nice, relaxing, educational way to spend an evening.
The Stockholm Meetup was one of our first events, but we're already planning more in the near future. Stay tuned to our blog articles and social media for announcements. We want to see you at the next event!