Freedom, responsibility, and coding
How a student's social media post led to a job at 84codes
IT student, Erica Weistrand, posted a Linkedin message that caught our attention at 84codes and led to a summer job. Her main task was to lead her own project from scratch. This is Erica's story about joining 84codes and the pros and cons of working remotely.
Erica Weistrand is a student of Information Technology and Engineering at Linköping University who, like many students, was heading towards a summer of uncertain job opportunities. Erica's original plan was affected by the global pandemic so she decided to look for a different opportunity to spend her summer. Although the outlook was not great, her eagerness to do something useful made her post an honest job application on LinkedIn. Her post received a lot of likes and was shared multiple times. Eventually, Erica's application reached one of the team members at 84codes and, within a couple of weeks, Erica found herself in Stockholm being welcomed onboard the team.
84codes had been looking into the possibility of building an education tool for one of our product offerings, but due to a packed priority list, the idea only existed on paper. When Erica turned up, the team realized that said tool was the perfect project to assign, for her to structure and build. Erica says, "Initially I was just happy that I got a job. This later turned into excitement over the opportunity to code something useful while improving my skills. A project like this comes with a lot of responsibility which can be a bit overwhelming at first, but I was happy for the degree of freedom that followed. The end result is something I actually can point to and say: Look, I built this."
Apart from some basic project requirements, Erica was encouraged to come up with her own ideas on how to design and build the tool. After a couple of onboarding days in Stockholm and over Hangout, the project took off and Erica started building the new 84codes education tool from her home.
"I started out by dividing the project into smaller parts and got to work. Throughout the development process, I luckily had access to other team members that could answer my questions, no matter if it was about the code or the functionality of the tool itself. When you work on a project like this it is important to start with a plan."
The most challenging part was to focus on one task at a time, according to Erica. Sometimes she felt eager to jump ahead into multiple projects when she hit a roadblock or realized that something else could be improved, but she quickly learned to make a note for finding a solution later on and to stay on task.
84codes are a remote team so employees get the freedom to work from wherever they want. For obvious reasons, during the spring of 2020, a home office was the first choice. Although, Erica is a very social person and she sometimes experienced the loneliness that comes when spending your entire day in front of your computer at home, with no coworkers to talk to. Luckily, the onboarding session and the fact that 84codes threw a work-away event in the middle of June made the gap between her and the rest of the team smaller. Most of the Swedish employees attended the work-away and met Erica in person, which made it easier for her to reach out later in the process when she needed help or someone to share thoughts with.
"The work-away was very nice! We worked together, had some team building, paddled kayaks and canoes, and much more. It was a lot of fun and it was nice to get to know the rest of the team. When meeting everyone in this way I believe you get to know the people a little differently from when you only spend days in an office together. You have the time to talk more to each other and about other stuff than just what you did yesterday on a quick coffee break. It is also very fun to do activities together."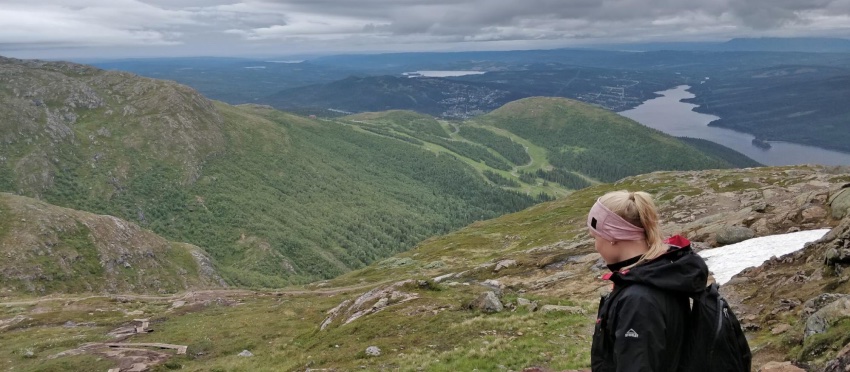 When she's not working or studying, Erica loves spending time at the gym, in a swimming pool, or in the running tracks with friends. The flexible hours made it possible to keep doing that and meet up with friends even though it was a regular workday. Erica emphasizes the importance of having a plan for the day and having continuous follow-ups and talks with others to get input on different ideas and thoughts about the project. And she felt like she got the appreciation needed to be able to keep her motivation up. "My colleagues are very good at giving compliments and showing appreciation which feels great," Erica says.
The project, which will be launched very soon, is wrapping up, and for Erica an autumn return to the university awaits. But Erica was offered a part-time job and will continue to work for 84codes alongside her studies, and the team is more than happy to have her on board. The next event for the 84codes team is a work-away event in the Swedish mountains where more colleagues will be joining.
"I'm so glad that 84codes found me. 84codes feels like a family, and it is clear that my colleagues enjoy spending time with each other, that they enjoy work, and they are interested in what they do. However, they also appreciate and prioritize life outside of work. It feels like a company with many possibilities, both as a company and for me as an employee."
To students who wish to get similar projects, she recommends being open to new things, showing an eagerness to learn and to be honest about your skills. If the job is remote, she says, don't be shy about reaching out to colleagues just to share your thoughts and to have a conversation with someone. It will make everything easier.
The 84codes team is lucky to have Erica on the team. If you are a student and looking for employment, don't hesitate to reach out as Erica did, try your luck and it just might work.
Are you interested in joining our team? Visit our Career site for more information.
Speak soon!
All the best/ 84codes-team