'Coronference' a mini-workaway with a new look
84codes workaway, online style.
Every year, the 84codes team gets together for a mini-workaway followed by a Christmas dinner. Often, this is the time to end big projects, evaluate the year, and brainstorm new, exciting projects to put in the pipe. Alas, the conditions of 2020 forced us to cancel and come up with a creative plan to get together safely. That's how the 84codes "Coronference" was born!
The coronference setup included a two-day schedule around the clock (to include our NZ and US teams), a Coronference "goodie bag" with accessories, equipment, and surprises, and challenges for pre-casted mini teams to complete. On the ninth of December, we kicked off the first-of-its-kind Coronference!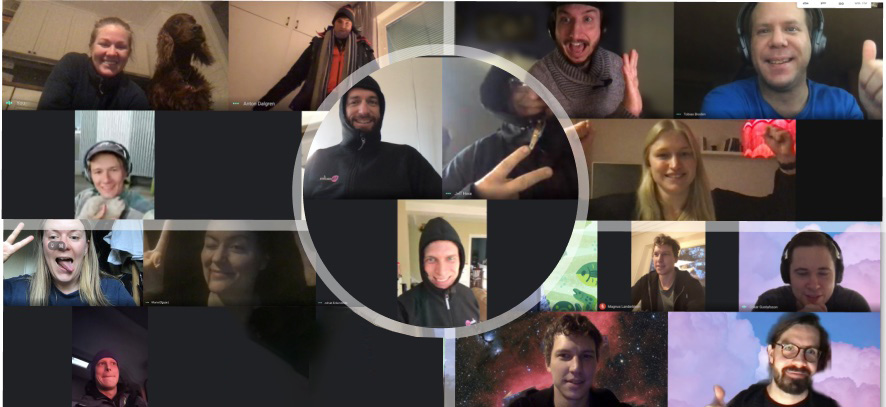 The 84codes team always strives for the awareness of physical health, something that we find really important when people are working from home. Right now, gyms are closing and motivation might be lacking, not to mention that we spend all our time in front of a computer. Therefore, we added a one-hour walk-session a day and one workout class a day to the schedule. The goodie bag included a yoga mat and a workout resistance band that came in handy. The ever-brilliant Malin Nestor from NestorEneby was called in to hold an online yoga session for computer backs and necks, and our own CrossFit expert, Mange, took us thru a not so very chill workout session. It was well needed, and we all got a lot of useful exercises that we can continue to do on our own.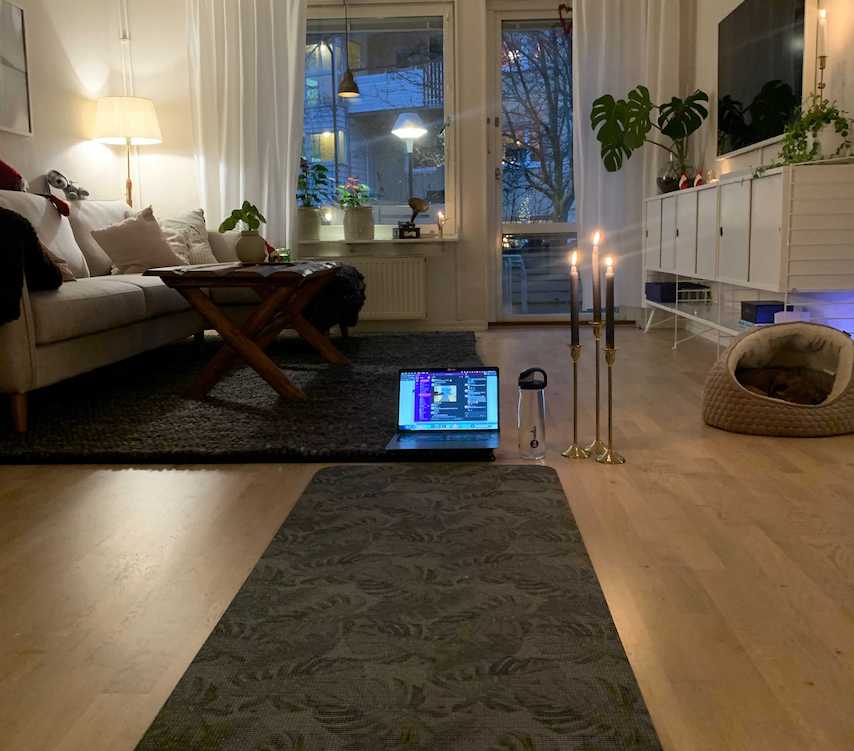 The goodie bag also included a painting kit, and one challenge was to create a painting with seven things that define us, not leaving anything unpainted. The team created some amazing paintings! To focus on something other than the screen, and to be creative without pressure was a fun break for everyone.

The most defining moment of the coronference was the group challenge when the teams had to solve certain tasks together, document the result, and send it within an hour. The team effort was outstanding! From digging in the dirt to find the most cones, to climbing the roof to get the "most remarkable position" for a photo, everyone really went all-out for this challenge. The culmination of the event was to guess which team solved the task with the best/funniest/most creative result. To top everything off was the joint Christmas-song recording from all teams mashed up into an 84codes Christmas song compilation. We can assure you, that even with the magic of the internet, coordinated singing from different parts of the globe is not an easy task. We would love to show you, but to avoid breaking the internet, we will leave the song-compilation to the imagination. But, we can promise you that it was wonderful.

Once again, this team has proven to be not only extremely creative and open-minded, they also take on every crazy task given to them with passion and dedicated collaboration, if not always to win, but just to make the game fun. Plus they give each other so much appreciation regardless of the situation.
The Coronference left us feeling almost as tired and happy (and with sore muscles) as any other workaway. This was a different, yet fun way to end 2020, but we hope that we will be able to host a real-life workaway next time, but if not, Coronference II will be on the agenda.

A big thank you to NestorEneby and Marknadsbyrån (that helped us put together the goodie-bags), and of course to every team member making this workaway the best it could be.
Until next time,
Elin & the 84codes team
Interested in joining our team? Visit our Career site for more information .